Home
---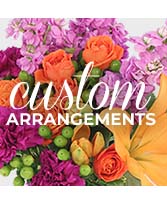 Custom Flower Design
Let us create a custom flower arrangement for you.
Order within 7 hours 30 minutes for Same Day Delivery!
Buy Now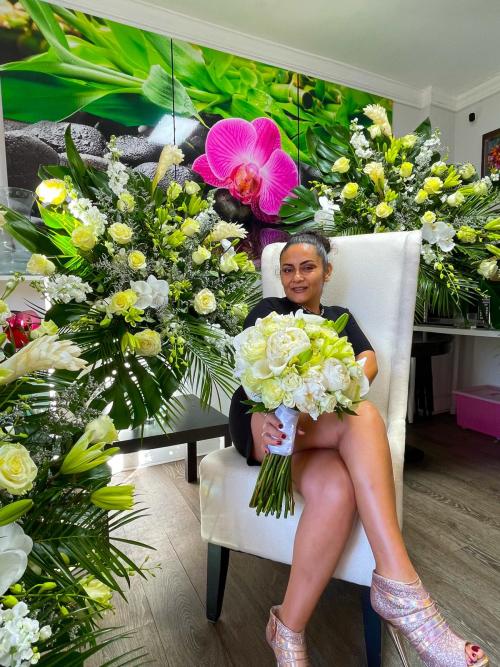 Valentines's Day is almost here, but we have fresh flowers for all occacions all year long. Order your Fresh Valentine's flowers, Birthday flowers, Anniversary flowers, Get Well flowers , Sympathy flowers, Just Because flowers, Love You flowers for all your different needs and events. Bright, fresh, beautiful Valentine's day flowers in Miami are always great to find. Flower design and making sure that our costumers can feel confident that their flowers are going to show their feelings and messages is what we enjoy during this time of the year even more, Pre-order your flowers for your next event, family get together, get together or party from Flowertopia your local design flowershop. Don't wait till the last minute to order your beautiful flowers. Flowertopia flowershop in miami will also help you with your last minute flowers, to make sure your loved one knows how special she/he is. Trust Flowertopia Miami your local florist to deliver a wonderful, elegant flower arrangment to the hands of that special one.
Let us decorate your next event, get together, party, corporate or your home with beautiful , fresh flowers.
Fresh flowers are always a delight to have, receive and send, Let Flowertopia Miami help you with your Flower needs and to make that special occasion an easier, more satisfactory, enjoyable and a more memorable one, with beautiful, elegant, exquisite, unique looking floral designs.
DO YOU HAVE SOMETHING IN MIND? LET FLOWERTOPIA YOUR FLOWER SHOP , ONLINE FLOWER SERVICE IN MIAMI PORTRAIT AND BRING YOUR IDEA TO LIFE.
Send flowers from a real local Miami Fl, florist. Flowertopia Miami will design and will deliver fresh flowers to that special person or event. Flowertopia delivers in Miami Fl, and surronding areas such as Kendall, flower delivery in Pinecrest, flower delivery in Palmetto Bay, flower delivery in Cuttler Bay, Coral Gables, Goulds, West Kendall, The Hammoks, South Miami, Kendall Lakes, The Crossings, Olympia Heigths, Doral, Medley, Sweetwater, Westchester, Hialeah Gardens, Miami Springs, Virginia Gardens, Miami Beach, North Bay Village, North Miami Beach, Sunny Isles, Bal Harbour, El Portal, Miami Shores, Surfside,. Flowertopia Miami also delivers nationwide through other trusted florist in our network. Same day delivery, is available. All flower arrangenments are professionally designed and hand delivered with always the best customer service that characterize us.
Fresh Flowers are always a deligthful gift for any occacion! We have a great selection of flowers and gifts from romantic roses to elegat and tasteful funeral flowers for viewing, cementery or home to gift baskets to dish gardens to gourmet baskest. No matter what the occasion might be... a get well gesture, a bithday, anniversary, welcome baby, I miss you or Just because Flowertopia Miami can provide beautiful bouquet of flowers or why not a fresh flowers basket for any budget. Do you have a special flowers request? Call us with a copule of day in advance and let us do our best to help you out!!
Trust Flowertopia flower shop in Miami to Make that special one feel loved, appreciated, honored, and respected.
Flowertopia Miami Florist in Miami, Fl has flowers for anniversaries whether it is your first one or your 25th, anniversary flowers are always as great way to show your loved one how important they are and how much you care about them. Roses are the most used flowers for anniversaries. You want something different we can make gourmet baskets, ballon bouquets, myllar ballon bouquets. we have shuffed animals, accesories. You know your significant other better that any one.
Flowertopia Miami is a flower shop in Miami that will do the delivery of beautiful flower bouquets, flowers arrangements and flowers in general hand delivered to your door step, work place or location of your chose and sorrunding areas and even out of state though our network of trusted florist.
Flowertopia Miami florist in Miami can design your fresh flower arrangements for that big or little event or any ocassion big or small. We work with all budgets. Browse our website and social media for products. Give us a call, visit our website for a variety of options - from fresh flower arrangements to customized gift baskets.When you have found the perfect gift,you can order online , call usdirectly or visit our Flower shop in Miami. We have beautiful keepsakes that you can choose from to customize your gift and or flowers. Remember we deliver in Miami and Surrounding areas such as Palmetto Bay, Pinecrets, Cutler Bay.
Flowertopia florist in Miami loves to work with all Brides and all Budgets in Miami and surrounding areas. We wil customize your bride bouquet, your bride's maids bouquets, boutteniers for thr Groom and for the groom's men. Need wedding church flowers? we can help you !! Need your recepcion flowers? we can help you too!
In Flowertopia Miami Flower shop in Miami we work with all the love and care on Birthday Flowers, Anniversary Flowers, Sympathy Flowers, Get Well Flowers, New Baby, Wedding Flowers, Funeral Flowers, Christmas Flowers, Mother's Day, Thanksgiving , Valentine's Day, Just Because.
HOW TO ORDER WITH FLOWERTOPIA YOUR LOCAL FLORIST IN MIAMI FL
Ordering online with Flowertopia has never been easier, Simply click the "buy now" botton and follow the prompt until your purchase is processed. Or you can simply call and place you order. We offer a wonderful variety of fresh cut flowers for all occasions. We offer gorgeous customized arrangements, gift baskets, gourmet snacks, accesories, stuffed animals, ballons and ballon bouquets. Our clients have the chace to select from a large assortment of options that are suitable for every occasion.
You can rely on Flowertopia Miami florist in Miami to deliver the best flowers hand delivered with the best customer service. Flowertopia flower shop in Miami takes great pride in our work creating beautiful, elegant, stunning arrangments of flowers. You can be sure to receive a beautiful design done with all the thought and care that your order deserves. Flowertopia Miami is also an online flowers service that works with any budget in Miami Dade County Fl.
OUR LOCATION-FLOWERTOPIA FLOWER SHOP
Click here for directions to our location on Google Maps
Flower Arrangements Are Our Speciality
Contact us for the best flower arrangements in Miami Fl, Need to send a beautiful Nouquet of flowers for a loved one? Look no further and contact Flowertopia Florist today to place you order. We specialze in wedding arrangement, happy birthday flowers, anniversary gifts, get well soon flowers and much more. Same day delivery available and we have a nationwide network to ensure your order is placed on time, any day out of the week.
Cities, Neighborhoods and Zip Codes
Flowertopia Flower delivery in Miami Fl and surrounding areas Coral Gables, Cocoplum, Coconut Grove, Miami, Miami Beach, Miami Lakes, Hialeah, Doral, Kendall, West Kendall, Miami Heights, South Miami, South Miami Heights, Miami Springs, Pinecrest, Palmetto Bay, Cutler Bay,
33177, 33156, 33157, 33176, 33131,33143, 33158, 33170, 33186, 33189, 33190, 33187,33002, 33008, 33009, 33010, 33011, 33012, 33013, 33014, 33015, 330016, 33017, 33018, 33023, 33024, 33025, 33026, 33029, 33027, 33028, 33054, 33055, 33056, 33101, 33102, 33106, 33109, 33109, 33111, 33112, 33114, 33116, 33119, 33122, 33124, 33125, 33126, 33127, 33128, 33129, 33130, 33132, 33133, 33134, 33135, 33136, 33137, 33138, 33139, 33140, 33141, 33142, 33144, 33145, 33146, 33147 33149, 33150, 33151, 33152, 33153, 33154, 33155, 33158,33159,33160,33161, 33162, 33163, 33164, 33165, 33166, 33167,33168, 33169, 33170, 33172, 33173, 33174, 33175, 33178, 33179, 33180, 331181, 33182, 33183, 33184, 33185, 33188, 33189, 33190, 33192, 33193, 33194, 33196, 33197, 33199, 33220, 33231, 33233, 33234, 33238,33239,33242, 33243, 33245, 33247, 33255, 33256, 33257, 33261, 33265, 33266, 33269, 33280, 33283, 33296, 33299
FLOWERTOPIA WEBSITE IS ALWAYS OPEN!
We offer same delivery Monday to Friday if you place the order online by 3:00 PM, eastern time. After 3:00 PM you must call us to place the order. Saturdays you can place your order by 2:00 PM, after you must call us aswell. Store is closed on Sundays, but you can pre-order until Saturday for Sunday delivery.