Modern/Tropical Designs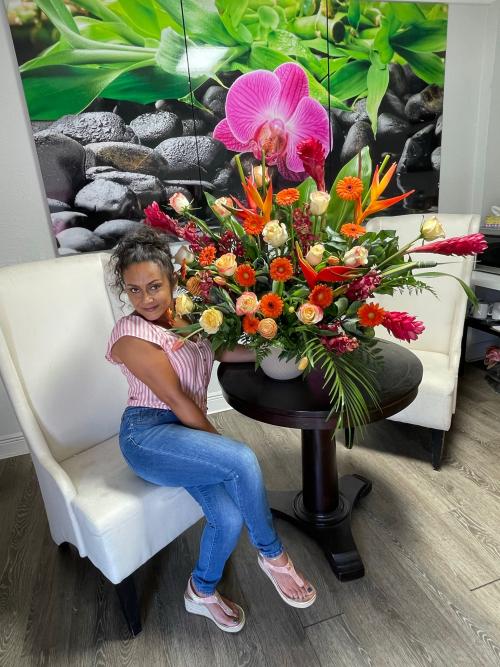 Tropical & Exotic Flowers by Flowertopia
Who'd be surprised that orchids, with their delicate, artful profiles, represent luxury? Or that exotic flowers, with their warm, lush origins, send a message of adventure and rare beauty. But, how surprised (and delighted) anyone would be when one of these striking gifts arrives straight from paradise to their front door. Tropical arrangements are great office gifts. Same-day delivery is available. *Substitutions will be made for out-of-season or out-of-stock flowers. All Orders are filled to value*
"Beautiful Tropical Flower Arrangements in Miami | Flowertopia"
Experience the allure of Miami's tropical paradise with our exquisite tropical flower arrangements at Flowertopia. We offer vibrant, handcrafted bouquets and exotic floral creations that bring the beauty of the tropics to your doorstep. Order now for same-day delivery in all of Miami-Dade County.
Welcome to Flowertopia, your premier destination for tropical flowers in the heart of Miami. Our passion is to bring the natural beauty of the tropics to your life through our stunning tropical flower arrangements. Whether you're celebrating a special occasion, expressing love and appreciation, or simply looking to brighten your day, our tropical blooms will transport you to an island of beauty and tranquility.
Why Choose Flowertopia for Tropical Flowers?
1. Exquisite Tropical Flower Arrangements:
At Flowertopia, we curate the most beautiful tropical flowers from around the world. Our skilled florists combine these vibrant blooms to create artistic arrangements that capture the essence of the tropics.
2. Miami-Dade Wide Delivery:
We're proud to serve the entire Miami-Dade County. With our reliable and efficient delivery service, you can send tropical flower arrangements to loved ones or enjoy them in the comfort of your home.
3. Freshness Guaranteed:
Our commitment to quality means that every tropical flower we use is fresh and in peak condition. You can expect long-lasting beauty and fragrance from every bouquet.
4. Customization:
We understand that every occasion is unique. Our team can work with you to create custom tropical flower arrangements tailored to your preferences and special events.
5. Eco-Friendly Practices:
Flowertopia is dedicated to sustainability. We source our tropical flowers responsibly, and our packaging is eco-friendly, ensuring that your purchase supports both nature and beauty.
6. Expert Care Tips:
Our website is also a resource for flower care tips and advice. Learn how to extend the life of your tropical arrangements and keep them looking their best.
Experience the Tropics Today:
Transform your space with the vivid colors and exotic scents of tropical flowers. Explore our extensive selection of arrangements featuring orchids, hibiscus, heliconia, and more. Whether it's a birthday, anniversary, wedding, or simply a gesture of love, our tropical flower arrangements are sure to make the moment unforgettable.
Contact Flowertopia for Tropical Flower Delivery:
Ready to infuse your life with the beauty of tropical flowers? Place your order today, and we'll ensure your tropical flower arrangements are delivered promptly, with the same care and attention we put into crafting them. Experience the magic of the tropics with Flowertopia.